As I have
posted before
, my brother has recently had twin daughters, which made me a new uncle. As many of you know, babies and I don't get along very well. I mean, they like me, but I'm very much afraid of them and have no idea what to do with them.
Well, for some obscure reason, I guess mostly to laugh at my feeble attempts, they have placed one of these 3-month-old babies on me. Within a few minutes, she has already has vomited some kind of white substance on my clean t-shirt. I decided to learn more about these weird creatures, so I did what I usually do.Used Google.
Well, I made a series of web searches, but none returned any useful results. I am usually pretty good at web searching. I wasn't sure where I went wrong. Many searches resulted in google scholar papers, but none included detailed enough instructions for beginners. Not to mention the fact that the product itself is not user-friendly. More about that below.
human baby "user's guide"
human infant "user's guide"
human infant manual
human infant safety
human infant care
human infant maintenance
human infant maintanence
human infant upkeep
baby uncle guide
new uncle guide
human baby care
human offspring care
human offspring maintenance
human offspring maintenence
human baby upkeep
human baby maintenance
human baby maintenence
Never mind Google's failure here, the product itself is a UI nightmare. No manual included, no labels of any kind on the very delicate parts. No warnings. No warranty (except as required by the state), and it's not even eligible for return or replacement.
It seems that human infants have a significant negative influence on humans, rivaled only by that of cats: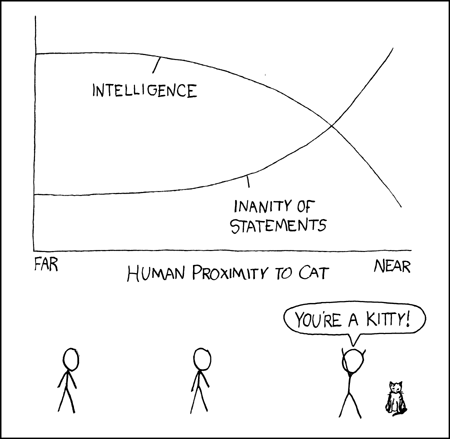 I, for one, seem to be immune to that negative effect (of cats too). However, I still cannot overcome the effect of
two
babies in my vicinity on all other humans, making having fun, such as playing board games, or having meaningful conversations, virtually impossible.
This post is a public service announcement: Use birth control. Because most STDs are manageable, babies aren't!
As for me, I'm considering a vasectomy...